We are very excited to announce that Logitech has released two new products to its Harmony line that will allow users to control thermostats, lights, locks, blinds, music, movies, game consoles and much more, from their Harmony remotes, Smartphones or tablets.
1. Harmony Elite
The most powerful, intuitive Harmony remote for entertainment and home control. It allows users to control thermostats, lights, blinds, music, videos, game consoles and more, from the included colour touch screen remote or their Smartphones and tablets.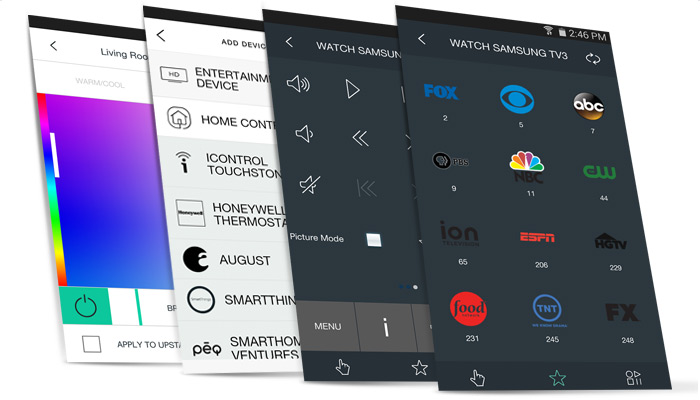 It comes with an IR and RF based colour touch screen universal rechargeable remote, a Harmony Hub which allows you to control Wi-Fi and Bluetooth devices, and 2 IR Mini Blasters which extend the IR signal.
With the Harmony Elite, you can use your Smartphone or tablet as your universal remote by downloading the Harmony app. This gives you a full home automation experience from your phone!
The app comes with a soft keyboard for easy browsing when using internet streaming services such as Netflix, Apple TV, and Roku.
2. Harmony Companion
The Harmony Companion delivers the same benefits as the Harmony Elite with one slight difference: Instead of the colour touch screen remote, users get a simplified remote.
Here's why:
It is for those who choose to use their Smartphone or tablet as their universal remote at all times. The RF-based simplified universal remote comes as back-up or a nice-to-have option.
The Harmony Companion focuses on home automation and complete control of your audio and video equipment from your phone!
Progressive Sales Canada is a proud distributor of the Logitech Harmony line across Canada. If you would like to become a Harmony dealer, Request Dealer Access on our website or email us at info@ps-canada.ca.
Watch TV, Browse through Netflix, Close the Blinds, Turn off the Lights, Lock your Doors, all from your Smartphone